Notes for Game 03
By Andrew Wolan / WRCS
Game date: July 11, 2011
Score Box


| | | | | | | | | | | | |
| --- | --- | --- | --- | --- | --- | --- | --- | --- | --- | --- | --- |
| Up To Date | 8 | 2 | 0 | 12 | 1 | 2 | 3 | | 28 | X | 3 |
| Verdasys | 3 | 4 | 0 | 1 | 5 | 0 | 4 | | 17 | 25 | 1 |

Links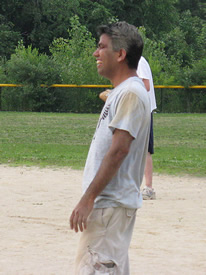 Naren safely back at 1B following the Ajeet-Naren incident. (Eno)

Coach's Game Analysis:





Recap:


More or less, Game 3 went pretty much the way I expected, minus the numerous falls on field acts of acrobatic tumbling by yours truly.

We were at a disadvantage because our opponents had 2 games under their belt this season, while we were playing in our first game. We also had just 9 players, which meant we had had one fewer fielder. Regardless, it was a productive game, in terms of both getting the team back in the groove (especially on offense), and familiarizing the new players with the game.

Final score was 28-17, which is roughly the same score we had against Up-to-Date last year, or 28-16.



Hitting:


Opponent hit a lot of grounders between 2B and 3B, along with many flairs hit into shallow left and center fields. A strong infield unit, combined with an active free outfielder, could really limit the opponent's run-scoring potential.

Opponent had one lefty, who kept hitting the ball down the line in right field. Our positioning of extra players in that area helped keep him in check.

The production from our batting line-up was pretty much what I expected it to be, if not more. The unconventional hitting style of our cricket players caught the opposing team's offense off guard, netting many base hits.



Fielding:


Both teams had decent fielding, with great plays occurring between some bad ones.

Observation: If there is a runner on first, and the ball is hit into the outfield, toss the ball to 2B to split the runners. We did not do this on many occasions, yielding a double and positioning runners on 2B and 3B. Why is this bad? Runners on 1B and 3B yields two possible force-out situations. Runners on 2B and 3B yield just one possible force-out situation.



Base Running:


Minus the Ajeet-Naren incident, base running on both teams was strong, but not overly aggressive.




Game Highlights:





The Ajeet – Naren Incident:


This predicament occurred during the 7th inning. With Ajeet on 1B, Naren hit the ball into leftfield into a location that should have yielded Naren an easy double. However, for whatever reason, Ajeet stopped after advancing to 2B.

Not realizing this, Naren proceeded to and reached 2B. With the ball being thrown in, the only course of action to avoid an automatic out was to have Naren retreat to 1B. (Having Ajeet run to 3B would make him an easier target since he was on the side where the ball was being returned.)

But instead of running back to 1B, Naren jogged back to first base at a leisurely pace. He picked-up speed near the end after some encouragement from the bench. As he approached bag, the ball was thrown in. He slid, but landed to the right of the bag. But luckily for Naren, the first baseman was unable to handle the throw, allowing it to dribble to the backstop. And with that, Naren stood up to take 1B, while Ajeet was directed to take 3B on the overthrow.



Other Memorable Events:
| | |
| --- | --- |
| - | The game was the Verdasys Softball debut for Yuliana Huo and Karina Salas. |
| - | A-WOL made career hit number 150. It was an infield hit to short, while hitting as a lefty. (1st) |
| | * Due to a clerical error, hit was actually career hit #153. (Updated 8/10/2012) |
| - | A-WOL was nearly hit by a Grimard hit back to the mound. (4th) |
| - | After fouling a pitch with a lighter bat, Ajeet switched to a heavier bat, and made a hit into shallow RF. (4th) |
| - | "Andy, you're dirty. Get out." Comment made by Ryan after A-WOL fell on the ground following the Ajeet-Naren incident. (7th) |
| - | "I just saw my entire life [go right] before my eyes." Comment made by the Up-To-Date pitcher after a ball nearly hit her on the mound. (7th) |
| - | Game was 1 hr and 30 min long. Second longest game ever logged by writing staff. (Longest was 1hr 45 min in "Game 11" with 356ers in 2010.) |
Big Bats:
| | |
| --- | --- |
| Ryan: | 5 for 5 (2-2B, 2-3B) with 3 RBIs and 5 runs scored |
| Naren: | 5 for 5 (2-2B, 3B) with 3 RBIs. First career 2B and 3B with Verdasys. |
| Kristen: | 4 for 5 with an RBI and 4 runs scored |
| Pete: | 3 for 5 (ITP HR) with 3 RBIs and 4 runs scored. Hit first official career ITP HR with the team. (Original ITP HR was made during an exhibition game, so it does not count.) |
| Ajeet: | 3 for 3 with 5 RBIs. |
Web Gems:
| | |
| --- | --- |
| A-WOL: | 6U-3 double play to Ajeet (5th) |
| Up-2-Date: | Barehanded catch by Kevin on Up-To-Date to rob Eno of an infield hit. (5th?) |
| Eno: | Robbed Up-to-Date lefty of a hit with a shift near the line in RF. (7th) |
| Up-2-Date: | 4U-3 double play by Up-To-Date to end the game. (7th) |
<!BR>



A-WOL Watch:





Batting:


2 for 4 (2B) with RBI and run scored. Made career hit #150 #153. (Due to a clerical error, hit was actually career hit #153. Updated 8/10/2012)
| | |
| --- | --- |
| - | Infield single as a lefty. (Career hit number 150 153.) |
| - | SAC to LF. |
| - | Pop-up to 2B as lefty. |
| - | Grounder up the middle for 2B (RBI), later scored. (Career RBI number 70.) |
| - | F7. |



Fielding:


Started at SS. Played position for entire game. Fell down creatively tumbled multiple times, mostly because I had become tired. Was inconsistent fielding-wise, making about as many outs as errors. However, I never lost my lost composure, which allowed me to make plays when a good chance arose. Even made a double play late in the game.

Had many touches.

| | |
| --- | --- |
| - | 6U (at 2B) (1st) |
| - | F6 (2nd) |
| - | 6-3 to Ajeet. (2nd) |
| - | (Various forgotten plays.) |
| - | While on shift into RF, limited the lefty to a single by snagging down the line. Nearly missed play at first to get him out. (4th) |
| - | Dove after a ball to my right. Was out of reach, but managed to block it with my shin to limit base advancement to those on base to one bag. (5th) |
| - | 6U-3 double play to Ajeet. (5th) |
| - | 6-4 (6th) |
| - | 6-4 (again) (6th) |
| - | Ran into shallow LF from SS to catch a fly ball. (7th) |
| - | Botched 2 double-play balls that netted 0 outs. |
| - | Missed various ground balls that I could have fielded. |



Pitching:


Need to pitch the ball higher for several reasons:

| | |
| --- | --- |
| - | The cricket players on our team can handle these types of pitches very well. |
| - | Such pitches are easier to hit into the shallow parts of the outfield. |
| - | Pitching the ball low increases the chance that a pitch will go back to the mound. (Was almost hit by a Grimard line-drive.) |
Andy Wolan is a reporter and photographer for Verdasys Softball. This story was not subject to the approval of the league or its clubs.