Notes for Game 06
By Andrew Wolan / WRCS
Game date: Aug 2, 2011
Score Box


| | | | | | | | | | | | |
| --- | --- | --- | --- | --- | --- | --- | --- | --- | --- | --- | --- |
| Verdasys | X | X | X | X | X | X | X | | X | X | X |
| Mass Medical | X | X | X | X | X | X | X | | X | X | X |

Links


| | |
| --- | --- |
| | Scorebook |
Coachís Game Analysis: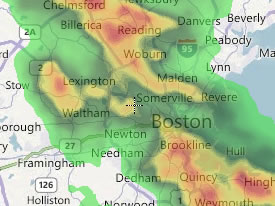 Radar image 15 min before game time. (twc.com)

Weather:


About two hours before game time, the radar showed a small, distant storm heading for Waltham from the northwest. The radar disturbance was so minuscule that the league considered it not to be a threat and gave the OK to play ball.

But as time went on, a second storm began to bubble-up ahead of the original storm. With an hour to go before game time, the sky was threatening to rain. A half hour before game time, Mother Nature made good on the threat and unleashed a chain of storm cells that brought heavy rain and lightning to the area. By game time, heavy rain was still falling, being accompanied by an occasional flash of lightning. Both teams agreed it was not safe to wait-out the storm and called it a day. A-WOL continued to follow the weather radar closely, satisfying his secret desire to become a television weatherman.



Why not agree to a PPD:


According to league rules, the Recreation Staff is responsible for making a decision by 4:00 on whether or a not a game should be postponed. Teams themselves do not have the power to declare that a game should be rescheduled. However, if both teams agree that a game should be suspended due to poor weather or lightning conditions prior to the completion of the fourth inning, then the game will be rescheduled, with play resumed at the point of interruption. Making such a decision at the start of a game falls under this rule.

By 5:30pm, it began to rain heavily. Radar showed a band of several storm cells were heading to the area. While it was possible that the rain could have let-up by game time, both teams would have to face a wet field with a muddy infield. Both teams could have reached an agreement by email stating that the game was unplayable, warranting a make-up game.

The point here is that both teams need to agree that the game was not playable. Unfortunately, the team captain from the opposing team has broken his word with our team once before in 2010. (Link to story.) There was no assurance that he would not break his word again, and report that our team did not show-up to game, claiming that we forfeited.

Instead, both teams agreed to come to the field so that a game time decision could be made on whether or not to play. Both teams were riding the notion that the weather could clear-up by game time. Though our team arrived at the field before game time, it is believed that other than the team captain, only one or 2 other players from the opposing team showed-up. Regardless, by game time the rain was still falling heavily, with the occasional flash of lightning being observed. Both coaches agreed that due to poor fielding conditions, and the ongoing lightning, it was unsafe to play and thus called off the game. A-WOL continued to follow the actions of the opposing captain closely, satisfying his secret desire to become an investigative journalist.

After the two teams left, the teams scheduled to play on the other field were observed waiting in their cars, hoping to ride-out the storm. Whether or not they played that afternoon is unknown, but the rain did stop at 6:20, only to resume an hour later.




Game Highlights:





Memorable Events:


First time the outcome of a scheduled game was not a loss since the Playoff Game Rematch in 2009. Outcomes of the past 13 scheduled games were losses.



Memorable Dialog:



| | |
| --- | --- |
| Ruben: | I love this weather. :) |
| A-WOL: | Excellent. See you at the game. |
| Ruben: | What are you talking about?!?! Itís raining!! |
| A-WOL: | Just a passing shower. |
| Ruben: | With lightning?!?! |
| A-WOL: | Well, what would Roberto Clemente do? Would he run from a rain storm? |
| Ruben: | He would get in the office and run some test cases, thatís what he would do! |




A-WOL Watch:



Game was rained out.



Andy Wolan is a reporter and photographer for Verdasys Softball. This story was not subject to the approval of the league or its clubs.