Notes for Game 08
By Andrew Wolan / WRCS
Game date: Aug 16, 2011
Score Box


| | | | | | | | | | | | |
| --- | --- | --- | --- | --- | --- | --- | --- | --- | --- | --- | --- |
| Verdasys | X | X | X | X | X | X | X | | W | X | X |
| Mass Medical | X | X | X | X | X | X | X | | L | X | X |

Links

Coach's Game Analysis: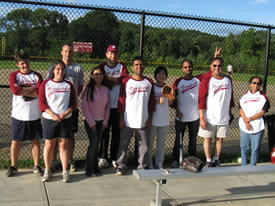 Team came-out en masse for today's game. They ever wore their new t-shirts. (Vankineni)

Recap:


First of all, I would like to give big thanks to everyone who came to the game, especially Naren and Karina who had other plans but still came, and Bhavani who came despite feeling sick. Thanks also goes out to Bhavani for assistance in rallying people to attend the game, and to Ryan for helping coach "drop the hammer" on the opposition.

As many of you know, our opponent this week was Mass Medical (M&M). They were the same team who in 2010 forfeited the game, only to go back on their word and record a win with the commissioner instead. They later appealed the game to the commissioner, hammering on the rule that a team needs at least 10 people to be at the game, and not 9. Because of this technicality, the end result was a double forfeit, leading to an unhappy Verdasys Softball team being denied its only win of the season.

After having the book thrown at us last season, we used the rules to our advantage this season to force our opponent to a forfeit. After waiting the 10 minute grace period, Verdasys had 4 women and 7 men, while our opponent had 7-8 players. According to Rule 2 under "Waiting Period":

"Any team that cannot field an appropriate number of players after the ten-minute waiting period will accept a loss by forfeit."

And so, a win by forfeit was earned, ending the Verdasys Softball team's two-year long losing streak.

Since everyone was there, we agreed to play a non-binding scrimmage game against M&M. We won that game 19-14, meaning our win is undisputed. Ryan single-handedly made a triple play, A-WOL hit the cycle, and Kaveesh showed off his cricket skills by catching balls barehanded at first base.

For more information on that scrimmage game, please view the game notes for "Game 08s: Scrimmage Game".



The Irony:


The irony of Game 8 is that had the M's accepted the forfeit last year, there is a strong chance we would have forfeited today's game. As has been the case for most of the season, we have struggled to round-up enough people for game time. There was a legitimate chance we would only have 6-7 people at today's game.

But because of what happened last season, it was easy to rally support for this particular game and get people to attend. In fact, some players came despite having other plans so we would not only avoid a forfeit, but also have a strong chance of winning the game as well. In the end Verdasys attended the game with 11 players, our highest all season.



Dirty Rumor:


With about 10-mintues to go before game time, the team was short a single male player. With the attendance status of Pete and Kristen unknown, the team faced the possibility of being short a player at game time.

According to DMZ.com, the drive that Coach A-WOL had to win today's game was so strong, that in a desperate attempt to fill the roster position he roamed around the soccer fields at Veteran's Memorial Complex, and asked total strangers to play. He was even prepared to offer $20 to entice people if necessary. Wow, don't underestimate A-WOL's passion for softball games!

This rumor is believed to have been started by "Batman_RE217", the same person who spread rumors about celebrities attending the team's softball games in 2010 to boost ticket prices. (See Game 6 in 2010.) It is believed that after "Batman_RE217" refused to come and play for the team, he suggested that the team ask some stranger to go play for the team instead, offering cash if necessary.

The Verdasys Softball team denies these allegations, but said that A-WOL would look into the possibility of bribing existing team members to attend future games.




A-WOL Watch:



See notes for Game 08s.



Andy Wolan is a reporter and photographer for Verdasys Softball. This story was not subject to the approval of the league or its clubs.