Notes for Game P1s
By Andrew Wolan / WRCS
Game date: Aug 29, 2011
Score Box


| | | | | | | | | | | | |
| --- | --- | --- | --- | --- | --- | --- | --- | --- | --- | --- | --- |
| Racepoint | 8 | 1 | 3 | 2 | X | X | X | | 13 | X | 0 |
| Verdasys | 5 | 1 | 0 | 0 | X | X | X | | 6 | 10 | 0 |

Links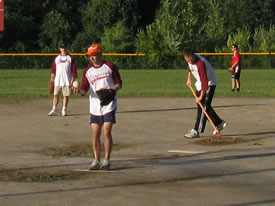 A-WOL preps the field as Bob and Eno get in some practice before the game. (Angelo)

Coach's Game Analysis:





Recap:


Verdasys and RPG played a 10-on-8 non-binding scrimmage game. Though Verdasys had the advantage in numbers, RPG had more skilled players, most notably on batting. The only salvation for Verdasys were the "phantom player" outs in RPG's batting line-up.



Fielding Conditions:


One would expect that a field known to have poor drainage would not fare so well after having several inches of rain fall on it. But this was not the case.

Rain from Hurricane Irene had subsided more than 24 hours before game time. Given that the field was dry before the storm, the time between events was sufficient to allow the rain water to soak in. By game time, the infield was firm enough to not be a hindrance on the players. The only blemish on the infield were some mud spots near the pitching circle. Coach Wolan rubbed these spots out before the game for safety reasons.

The sheer volume of rain that fell also had a nice side effect of leveling the infield surface. At game time, there were no grooves or pockets, almost as if someone raked the infield before the game.

Since the foul lines were completely absent, Coach Wolan re-marked parts of the foul lines near home plate, and parts of the line in LF. These lines proved helpful in declaring a ball foul or fair during the course of the game. (For example: an infield blooper near home plate rolled just foul down the RF line. Another hit into LF down the line was easily declared fair due to the markings.)



Fielding:


Bob Safner, a lefty, started at 1B. He was quite effective at the position, demonstrating an ability to place himself correctly and handle throws to 1B. The team is considering extortion so that Bob will come to future games.

Angelo started in CF. His lack of experience at the position showed. However, he had the correct mentality to chase fly balls, meaning that with practice he might be a good outfielder.

As for RPG, their fielders were a bit sloppy compared to their performance in our previous game against them.



Hitting:


RPG has hitters who hit the ball into the area behind 2B. Some hitters hit ground balls that were more towards 2B than SS. Be sure to provide coverage in those areas.




Game Highlights:





Memorable Events:



| | |
| --- | --- |
| C | Yuliana |
| 1B | Safner |
| 2B | Kristen |
| SS | A-WOL |
| 3B | Pete |
| LF | Elliot |
| CF | Angelo |
| RF | Usha, Karina, Bhavani |
| FOF | Vacent |
| FOF | Vacent |
| | |
| --- | --- |
| - | Today's game was the Verdasys Softball début of Angelo S. and Bob Safner. Each player made his first career base hit as a member of the team, and each scored his first run as a member of the team as well. Bob Safner also collected his first RBI as a member of Verdasys Softball. |
| - | Despite reaching second base on a double, Pete failed to advance on infield grounders by Kristin and Pete. (Booo!) (2nd) |
| - | "Don't look at me, run!" Comment made by Coach A-WOL to Bob S. after Bob hit a shallow pop-up that landed in the middle of the infield. Instead of running to first, Bob froze in the batter's box, leading to an easy out at 1B. (2nd) |
| - | After Usha hit a ball near the batter's box, the catcher fielded the ball and tossed it to 1B for the force-out. She did so despite pulling a calf muscle. (3rd) |
| - | While preparing to bat, the catcher for RPG tossed a bat she did not like at the fence. One of her teammates was standing behind the fence at that spot. "I don't think she likes him," said A-WOL. |
| - | An RPG batter hit a ball that landed near first 1B. Bob picked it up and tagged 1B for the out. "I like it when the ball lands right where I want it to," commented Bob. |
Big Bats:
| | |
| --- | --- |
| Eno: | 2 for 3 (2B) with 2 runs scored. |
| Pete: | 2 for 3 (2B) with 1 RBI and 1 run scored. |
| A-WOL: | 2 for 2 with 1 RBI. |
| Salas: | 1 for 2 with 1 RBI. |
Web Gems:
| | |
| --- | --- |
| RPG Catcher: | 2-3 force-out to 1B of a dibbler near home plate to end the inning. (3rd) |
Injuries:
| | |
| --- | --- |
| - | During a pre-game batting session, Karina fouled a ball back to her lip. Lip was a little swollen after the game. |
| - | After fielding a ball hit into LF, Eno, who had intended to throw the ball to the cut-off man, threw the ball to Angelo instead. Angelo was positioned between Eno and the cutoff fielder. With his gloved hand stretched out away from his body and at a slight upward angle, Angelo tried to catch the ball. But as the ball arrived, it dipped and struck his forearm, which then began to swell-up. After Angelo iced his arm that evening, his arm was fine a day later. |
| - | Catcher from RPG pulled a leg muscle during the game. |




A-WOL Watch:





Fielding:


Played SS.

| | |
| --- | --- |
| - | F7 |
| - | U6 (2B) |
| - | 6-3 (botched … threw too high, but made a nice back-handed snag of a grounder to my right at short.) |
| - | 6-3 (easy grounder to short) |
Had two balls hit behind short that I could have caught, but got scared with possibility of colliding with Angelo.



Batting:


2 for 2 with one RBI. Collected career RBI #75.

| | |
| --- | --- |
| - | Hit ball into CF for a hit. Made a nice easy swing using the lighter bat. Net result was an RBI single. (Career RBI #75.) |
| - | Used heavier bat. Tried to bat it into right field, but popped it up to 2B instead. Fielder could not catch it. Ran to first base in case ball was dropped, which paid off. |



Epiphany:


A talented softball team does not win "from the barrel of the bat" alone. They need to undertake strategy, some of which will appear "bogus" because it is based on technicalities.



Andy Wolan is a reporter and photographer for Verdasys Softball. This story was not subject to the approval of the league or its clubs.