Notes for Game P2
By Andrew Wolan / WRCS
Game date: Aug 31, 2011
Score Box


| | | | | | | | | | | | |
| --- | --- | --- | --- | --- | --- | --- | --- | --- | --- | --- | --- |
| Racepoint | X | X | X | X | X | X | X | | W | X | X |
| Mass Medical | X | X | X | X | X | X | X | | L | X | X |

Links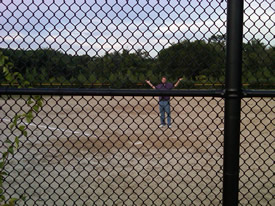 Bewildered, Wolan stands at the location where a title game should be occuring. (Unknown)

Coach's Game Analysis:





Recap:


The "2011 Middlebrook Field Consolation Playoffs" was full of surprises. In the opening round, Racepoint Group had to forfeit the game against hallway rival Verdasys after the RPG team failed to round up enough players for the game. But to everyone's surprise, Verdasys allowed RPG to advance to the finals in place of Verdasys. The unusual decision was made because Verdasys anticipated a player shortage of their own for the championship round. And thus, the stage was set for RPG to square off against #5 seed Mass Medical, who advanced to the finals via a bye-game.

Anticipating a good match-up, Coach Wolan came to the field on game day to watch the championship game. But to his surprise, the field was empty. What happened?

After contacting both teams, it was learned that the game was called-off in advance. This declaration was made after M&M learned they would not have enough women players for the game. As a result, M&M forfeited the match, giving RPG the win and the championship crown. Both wins are firsts in RPG club history.

And so with M&M's loss, each team in the "consolation tournament" will now end the year with two wins: M&M won two games in the regular season to end with a 2-4 record, while 1-5 Verdasys and 1-5 RPG each won a game in the regular season, followed by a win in the playoffs.



Notes:


This article was the writing staff's 123rd Game Summary / Game Notes report.




A-WOL Watch:



Game was skipped. Did not play.



Andy Wolan is a reporter and photographer for Verdasys Softball. This story was not subject to the approval of the league or its clubs.